Masoor Ki Dall
Rating: 3/5 - Votes: 4 - Views: 24859
An easy and mouthwatering recipe of masoor ki daal with aromatic flavor of all spices.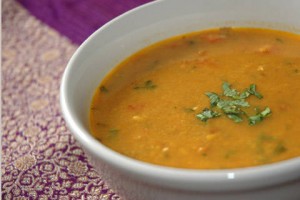 ---
Total servings:
4
Calories:
Pre-Prep time:
Preperation time:
30 min
Occasion:
Any
Cuisine:
Pakistani
Effort:
Average
Best for:
All
How to serve:
Hot
---
Ingredients:
1 cup Masoor dal
3 cup water
1 ts red chilli powder
1 ts salt
1/4 ts turmeric (Huldi)
2 green chilli chopped
2 tsb fresh coriander shopped
1 ts level garam masala
For Bhagaar (Turka)
1/4 cup oil or ghee
2 cloves finely chopped garlic
1/2 ts Zeera
Preparation:
Wash dal in a few changes of water, until the water runs clear. then laeve it to soak in cold water for about 25 minutes.
Drain the dal and put it in the cooking pot with water salt, red chilli powder and cook for 20 to 30 minutes or until dal is very tender. When dal is cooked it should look like creamy soup (you may have to add more water if the lentil is not creamy ) and cook for furtur 10 to 20 minutes.
To make the bhagaar, heat oil in a frying pan add the garlic and fry until light brown , at this point add zeera and fry for few seconds and pour over the lentil and stir and cook for few minutes.
Pour in a serving dish and garnish with coriander and green chilli.Sprinkle garam masala over it.
Serve with plain boiled rice or chapati.