Tasty Paneer Pakora
Rating: 5/5 - Votes: 1 - Views: 15714
These paneer pakoras are very tasty. You can either deep fry or oven-bake them.A delicious way to get calcium and vitamin A into you, with few carbs!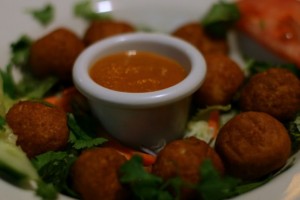 ---
Total servings:
4-5
Calories:
Pre-Prep time:
Preperation time:
30 min
Occasion:
Ramadan
Cuisine:
Pakistani
Effort:
Easy
Best for:
Low Calories Dieters
How to serve:
Hot
---
Ingredients:
Cottage cheese 250 gms.
Red chili powder 1 tsp.
Mango powder 1 ¼ tsp.
Oil For deep
frying
For the batter
Gram flour 8 tbsp.
Red chili powder 1 ½ tsp.
Cooking soda A pinch
Water As required
Salt To taste
Preparation:
Cut the cottage cheese into square, thick cubes.
Sprinkle red chili powder and mango powder on each piece.
Make the batter by mixing the gram flour with red chili powder, salt, soda and
sufficient water to make a slightly thick batter.
Dip each piece of cottage cheese into the batter and deep fry in heated oil till it turns golden brown.
Serve hot with green chutney.