Potato Bondas
Rating: 5/5 - Votes: 1 - Views: 16988
A tasty snack of deep fried potatoes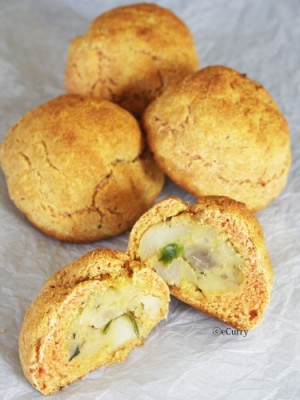 ---
Total servings:
3-4
Calories:
Pre-Prep time:
Preperation time:
30 min
Occasion:
Ramadan
Cuisine:
Indian
Effort:
Easy
Best for:
All
How to serve:
Hot
---
Ingredients:
Potatoes 200 gms.
Besan flour 8 tblsps.
Mustard seeds ½ tsp.
Black dal 1 tblsp.
Cashewnuts(chopped) 2 tblsps.
Onions(medium size) 2 nos.
Green chilies 6 nos.
Ginger 1" piece
Curry leaves As required
Chili powder 1 tsp.
Turmeric powder ¼ tsp.
Lemon ½ piece
Ghee or Oil 3 tblsps.
Salt to taste.
Preparation:
First boil the potatoes and then peel and cut into cubes.
Heat the ghee in a saucepan and add the mustard seeds.
When the mustard seeds start sputtering add the black dal and cashewnuts.
When the above turns golden brown, add the turmeric powder, green chilies,
onions, ginger, curry leaves and stir till it is done.
Now add the potatoes and salt to the above.
Keep on low flame for 2 minutes and take off from the flame.
Next add lemon juice and mix well.
Make small balls out of this mixture and keep aside.
Using 1/2 cup of water, gram flour, chili powder and salt make a thick batter.
Heat oil well in a deep frying pan and slowly dip the potato balls into the oil.
Fry till the bondas are golden brown.
Remove and drain.
Serve hot with tomato sauce or green chutney.
Indian Food Guide: Recipes - Potato Bondas
http://www.sanjeevkapoor.com/recipes/snacks/potatobondas.html [7/2/2001 3:54:13 PM]