Pasanday
Rating: 5/5 - Votes: 2 - Views: 25243
Beef Pasanda is a traditional recipe for a classic lightly-spiced curry of beef and onions cooked in yoghurt.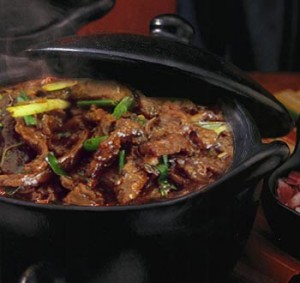 ---
Total servings:
5
Calories:
Pre-Prep time:
Preperation time:
2 hrs
Occasion:
Any
Cuisine:
Pakistani
Effort:
Easy
Best for:
All
How to serve:
Hot
---
Ingredients:
1/2 Kg beef filets
1 tbs. Roasted Chana powder
2 tbs. poppy seeds (Khaskhash)
3 medium sized onions chopped
8 whole dried red chilies
2 tbs. peanuts
1 tsp. garam masala
250 grm. yogurt
3-4 tbs. oil
1 tsp. ginger (Adrak) paste
1/2 tsp. salt (according to taste)
1 tsp. cumin seeds (Zeera)
Piece of Coal.
Preparation:
Grind all the dry ingredients and mix with the yogurt.
Apply this mixture to the meat and leave to marinate for at least 2 hours.
Heat the oil in a pan. Fry the onion till brown.
Add meat and leave to cook on low heat till tender. Add a little water, if necessary.
When it leaves oil turn off the heat.
Place a piece of roti in the center and put a burning coal on it, drop few drops of oil and cover immediatelty. let it covered for few minutes. Remove coal before serving.
Serve hot with chapati.