Karahi Mince
Rating: 3.5/5 - Votes: 2 - Views: 20501
Mince beef cooked in authentic spices. Enjoy...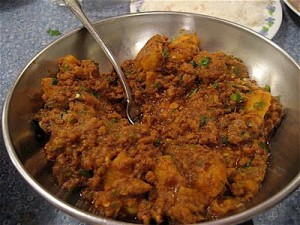 ---
Total servings:
3
Calories:
Pre-Prep time:
5
Preperation time:
1 hr
Occasion:
Any
Cuisine:
Pakistani
Effort:
Average
Best for:
All
How to serve:
Hot
---
Ingredients:
500 g minced meat
2 large tomatoes, chopped
1 tsp ginger paste
1 tsp garlic paste
1 medium onion, sliced
1/2 tbsp cumin seeds
3/4 tbsp crushrd red chillies
1 tbsp crushed coriander
3 whole red chillies
1/2 tbsp salt
a pinch of nigella
1/4 tsp turmeric powder
2-3 black pepper, whole
4-5 cloves
1 large cardamom
1 inch piece cinnamon stick
2 green chillies, finely chopped
2 tbsp coriander leaves
1/4 cup oil
Preparation:
Heat oil in a heavy based saucepan, add onion and stirring frequently fry until it is light brown about 5-8 minutes.
Add minced meat, garlic and ginger paste. While stirring, fry the minced meat for about 5 minutes or until it turns brown.
Now add all ingredients excpt green chillies and fresh coriander. Cook over medium heat for 20- 25 minutes.
Then stirring frequently fry until all the moisture has evaporated and the oil separates.
Garnish with green chilies and chopped coriander leaves.
Serve with Nan/paratha.