Hara Dhaniya Chutney
Rating: 2/5 - Votes: 5 - Views: 19906
a special chutney for Ramadan. The lemon juice preserves the green colour of the chutney (prevents it from going dark).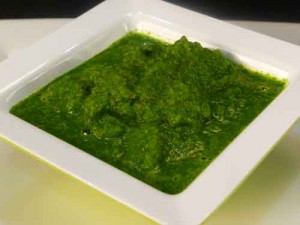 ---
Total servings:
6
Calories:
Pre-Prep time:
Preperation time:
10 min
Occasion:
Ramadan
Cuisine:
Pakistani
Effort:
Easy
Best for:
All
How to serve:
Cold
---
Ingredients:
175-250 g (6-8 oz) fresh coriander leaves
3 green chillies, de-seeded and washed
50 g (2oz) desiccated coconut
5 cm (2-inch) fresh ginger
Juice of 1 Lemon
1 tsp salt
1 tsp sugar
2 tbsp oil
1 tsp black mustard seeds
4 curry leaves, chopped coarsel
Preparation:
Wash coriander, drain well to remove any excess moisture.
Place the first 7 ingredients on a food processor and blend till smooth. If necessary you can add a little more lemon juice to help in the blending.
Remove to a serving dish.
Heat the oil in a frying pan and fry the mustard seeds and curry leaves till the mustard seeds pop and crackle!
Pour the oil and spices over the chutney, cover the dish and leave for 5 mins.
Mix well, adjust the seasoning and add some more lemon juice if necessary and serve chilled.