Haleem With Mutton
Rating: 3/5 - Votes: 7 - Views: 36289
Haleem is a wonderfully creamy, spicy and very nutritious dish. The ingredients are simple, but to make a good haleem it needs to be slow cooked for some hours which results in a paste like consistency.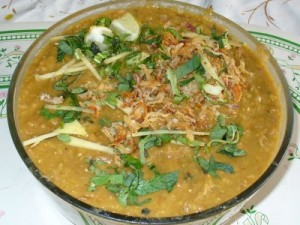 ---
Total servings:
4
Calories:
Pre-Prep time:
Preperation time:
3-4 hours
Occasion:
Any
Cuisine:
Pakistani
Effort:
Average
Best for:
All
How to serve:
Hot
---
Ingredients:
1 kg Wheat(grounded to the size of large sugar crystals and soaked over night)
1 Cup Of All Kinds Of Pulses
1 Cup Rice
2 kg Beef (boneless)
2 tbsp Ginger+Garlic Paste
1 Kg Tomatoes
Red Chillies To Taste
Salt To Taste
1 tsp Tumeric Powder
Mint leaves, corriander, green chillies and lemon for garnishing.
Preparation:
First cook beef with ginger and garlic paste, tomatoes, red chilli, tumeric powder and salt till beef is tender.
Put the wheat in a big bowl with a good amount water till tender.
In another bowl , boil all the pulses and rice till tender.
Then grind the pulses properly.
Continuously mix the wheat on medium flame.
When it gets a little thick, add the pulse mixture and mix properly.
Now add in the beef mixture.
Mix very well for 10 minutes.
Put fried onions alongwith the hot ghee used to fry the onions in.
This is the "baghar" and it gives taste to finished haleem.
Cook on low flame.
Garnish with corriander, green chillies and mint leaves and serve hot.