Fried Dahi Chops
Rating: 4/5 - Votes: 4 - Views: 14534
Frying is a great way to create a thick, crisp crust on your meats without all the fat. Battered in a spice mixture these chops will taste great with roti or naan.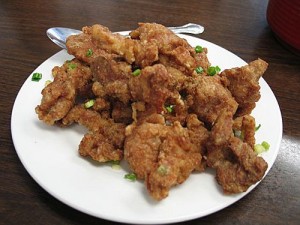 ---
Total servings:
4-6
Calories:
Pre-Prep time:
2-3 Hours
Preperation time:
30 Minutes
Occasion:
Any
Cuisine:
Pakistani
Effort:
Easy
Best for:
All
How to serve:
Hot, With Garnashing
---
Ingredients:
Chops: 8 (Pound Lightly)
Yogurt: 2 Cups
Onion: 2 (Finely Sliced)
Cooking Oil: 1 Cup
:: For Paste To Coat The Chops ::
Garlic: 4 Flakes
Ginger: 2" Piece
Fresh Coriander Leaves: 1 Small Bunch
Green Chillies: 4
Red Chillies: 2
Turmeric Powder: 1/2 Teaspoon
Pepper Corns: 6
Salt: To Taste (Make a fine paste of all these ingredients)
Preparation:
Fry the sliced onions in two tablespoons cooking oil till they get brown and crisp.
Coat the chops with the yogurt and masala paste.
Soak them for two hours.
Then heat six tablespoons cooking oil and fry the chops till they get tender and brown.
Garnish them with brown and crispy onions and serve hot.