Favorite Walnut Cake
Rating: 5/5 - Votes: 1 - Views: 11014
These cakes are usually soaked in very sweet syrup and If you eat this in Greece, possibility is that it is too sweet, but if you make it at home, you can make it to your taste. Can be served with whipped cream or ice-cream.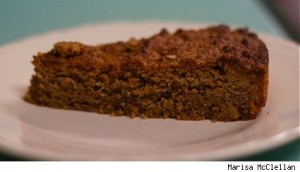 ---
Total servings:
Calories:
Pre-Prep time:
Preperation time:
1 hr
Occasion:
Any, Ramadan
Cuisine:
Not Sure
Effort:
Easy
Best for:
All
How to serve:
Cold
---
Ingredients:
3 c. sifted cake flour
2 tsp. baking powder
1 1/2 tsp. salt
1 3/4 c. sugar
1 c. soft shortening(too soft of a frosting that won't hold up and whitest in color).
4 eggs
3/4 c. milk
2 tsp. vanilla
1 c. finely chopped walnuts
Preparation:
Sift dry ingredients into large mixer bowl.
Add shortening, 2 eggs, milk and vanilla.
Beat for 2 mins. with mixer at med. speed.
Add 2 eggs, beat 2 mins. longer.
Fold in walnuts.
Pour into greased 9" tube pan lined on bottom with waxed paper.
Bake at 375 for 1 hr. or until cake tests done.
Cool in pan on wire rack for 10 mins. Remove from pan.
Peel off paper. Cool on rack.