Cheese And Onion Pastries
Rating: 3/5 - Votes: 12 - Views: 46334
These delicious pastries are made with puff pastry with a filling of potatoes, cottage cheese and onions. The cottage cheese can be replaced with feta cheese, ricotta cheese etc.Vegetables can be replaced with minced beef or chicken.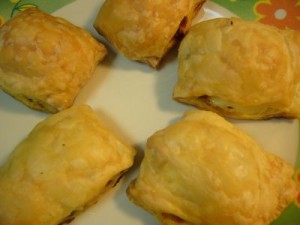 ---
Total servings:
8
Calories:
Pre-Prep time:
Preperation time:
45 mins
Occasion:
Any, Ramadan
Cuisine:
Pakistani
Effort:
Average
Best for:
All
How to serve:
Hot
---
Ingredients:
500g Puff Pastry(frozen or fresh.)
4 medium potatoes
1 medium Onion
100g butter
100g grated cheddar or cottage cheese
pinch salt (to taste)
pinch pepper (optional)
1 egg (beaten)
plain flour to dust
Preparation:
Skin and cut potatoes and boil until soft.
Meanwhile finely chop onion put into small bowl and put the butter on top(cut into rough cubes), microwave on full power for about 2 mins.
Mix the fried onoins into the boiled potatoes add cheese, salt and pepper and mix.
Roll out pastry and make about 32 even squares.
Put about 1 tablespoon of the mixture into the centre of each square and brush with egg two of the edges and fold over diagonaly to make triangles.
Lightly flour baking trays and place pasties on them.
Glaze with egg.
Put into preheated oven at gas mark 7 for about 10-12 mins.
ENJOY!(perfect for iftari's)