Anda Tamatar (Egg Tomato)
Rating: 3/5 - Votes: 3 - Views: 27397
Enjoying eggs based dishes is not limited to only breakfast time. A quick, inexpensive dinner can be an omelette with your choice of filling.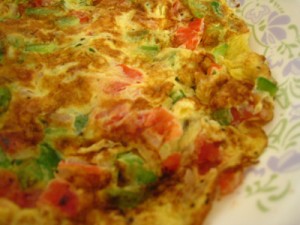 ---
Total servings:
2
Calories:
Pre-Prep time:
Preperation time:
5 minutes
Occasion:
Any
Cuisine:
Pakistani
Effort:
Easy
Best for:
All
How to serve:
Hot
---
Ingredients:
4 eggs
4 chopped medium tomatoes
1 tsp red Chili powder
2-3 green chilies chopped
2-3 table spoon (or as you like) cooking oil
1 tsp Chinese salt
Salt to taste
Preparation:
Heat oil in a pan or in a wok.
Then put chopped tomatoes in it.
When tomatoes are tender put green chillies and red chili powder, cook for 3 minutes.
Then put Chinese salt and salt in it and mix it well.
Now put the eggs on the cooked tomatoes.
Very important:
Keep in mind, don't mix it just spread it and let the eggs cook.
Then just give some turns and the delicious egg tomato is ready.
If you mix it too much then it will just a regular cooked egg recipe.
Tip: for best Anda tamatar, cook the eggs on very low heat throughout.
Its good for winter season.