Zinger Burger
Rating: 3/5 - Votes: 14 - Views: 34444
An oily deep-fried chicken fillet burger served with fries and ketchup.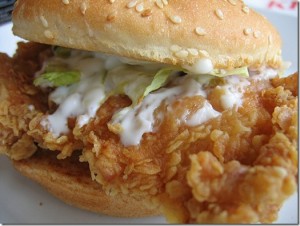 ---
Total servings:
4
Calories:
Pre-Prep time:
Preperation time:
1 HOUR
Occasion:
Any
Cuisine:
Pakistani
Effort:
Easy
Best for:
All
How to serve:
Hot
---
Ingredients:
4 BONELESS CHICKEN BREASTS (with skin)
1/2 TEA SP AGINOMOTO
1/2 TEA SP SALT
1/2 TEA SP WHITE PEPPER
1/2 TEA SP MUSTARD PASTE
2 TABLE SPWORCESTERSHIRE SAUCE
FOR BATTER:
3 TABLE SP MAIDA
I TABLE SP CORNFLOUR
1 EGG
1/2 TEA SP BAKING POWDER
1 TABLE SP MILK (MIX AND MAKE THE BETTER)
OIL FOR FRYING
Preparation:
MARINATE THE CHICKEN WITH AGINOMOTO,SALT,WHITE PEPPER,WORCESTERSHIRE SAUCE AND MUTARD PASTE FOR 1/2 AN HOUR.
THEN DIP IN THE BETTR AND ROLL IN THE HALF CUP OF FLOUR AND THREE TYPES OF CRUMBS (CHIPS,BREAD,MAIDA) AND DEEP FRY ON MEDIUM HEAT UNTIL CHICKEN GETS DONE.
CUT THE BUNS IN HALFS .
APPLY MAYONAISE, PUT SALAD LEAVES, FREID CHICKEN PIECE 1TBSP MAYYONAISE ON TOP AND THEN COVER WITH OTHER HALF OF THE BUN.