Yakhni Pulao
Rating: 4/5 - Votes: 6 - Views: 33139
This dish is a great accompaniment for any main course, be it vegetarian or meat-based.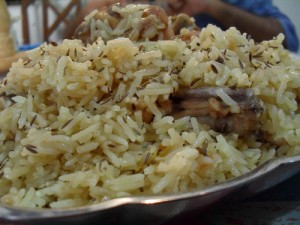 ---
Total servings:
6-8
Calories:
Pre-Prep time:
Preperation time:
1.5 hrs
Occasion:
Any
Cuisine:
Not Sure
Effort:
Easy
Best for:
All
How to serve:
Not Sure
---
Ingredients:
For Yakhni(stock).
Mutton 1 kg.
Salt to taste.
Garlic 1 bunch.
Ginger 1 piece(small).
Aniseed(saunf) 1/2 tbsp.
Coriander Seeds 1 tbsp.
Black Cumin 1/2 tbsp.
White Cumin 1/2 tbsp.
(Wrap all the spices in a piece of muslin & tie with a string to make a spice bag).
For Pulao.
Long Grain Rice 1 kg.
Onions(medium size, thinly sliced) 2.
Yogurt 3 tbsp.
Green Chillies 5.
Cardamoms 4.
Salt to taste.
Cooking Oil 1 cup.
Stock(mutton) 8 cups.
Preparation:
Method to prepare the stock:
Pour 10 cups of water into a pan & add ginger, garlic, salt, mutton and the muslin bag, bring to a boil. Let it simmer till the mutton gets tender. Sieve the mixture separating the meat pieces. (Do not open the muslin bag, just press it firmly to extract all the spice juice from it).
Method for pulao:
Heat oil in a heavy based pan. Fry onions until they are golden brown. Remove half from the pan & place on absorbent paper, add yogurt, cardamoms & green chillies in the remaining half & stir for a few minutes. Then add mutton pieces & fry for about 5 minutes. Add stock to it & cover. When it begins to boil, add rice & salt. Stir gently to mix all the ingredients. Cover with a tight fitting lid. Lower the heat and allow to cook for 810 minutes, until rice is tender but firm. Place the pan on a heavy griddle(tava) & let it cook for 1015 minutes. Sprinkle fried onions on it.