Vegetable Fried Rice
Rating: 3/5 - Votes: 6 - Views: 33294
This dish combines the flavor of rice with the fresh taste of a medley of veggies.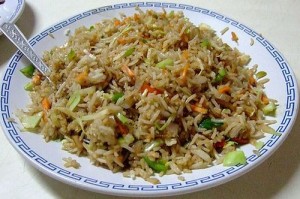 ---
Total servings:
Calories:
Pre-Prep time:
Preperation time:
Occasion:
Any
Cuisine:
Chinese
Effort:
Easy
Best for:
All
How to serve:
Hot
---
Ingredients:
1/4 cup oil
2 1/2 tablespoons butter
125 grams peas
125 grams mushrooms, sliced
100 grams carrots, grated
25 grams pickled cucumber (gherkins)
100 grams beans, french chopped
125 grams sweet corns
1 large onion, cut into small cubes
4 onions, spring thinly sliced
4 tablespoons soy sauce
Salt to taste
750 grams rice, Pakistani basmati
Preparation:
Heat oil and butter and stirfry peas, mushrooms, carrots, pickled cucumber, beans, sweet corn, onion, spring onion, Soya sauce and salt.
Cook for 3-4 minutes.
Add the rice and mix with vegetables. Fry both over medium heat for two minutes.
Add 1 1/2 liters boiling water. Stir and bring to boil.
Lower heat and place on heavy iron plate for 15 minutes with lid covered.
Stir once after 8-10 minutes.
Serve in a wellheated dish.