Tasty Gulab Jamun
Rating: 3/5 - Votes: 13 - Views: 25936
Warm and tasty Donut balls floating in succulent sugar syrup.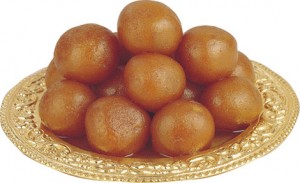 ---
Total servings:
6-7
Calories:
Pre-Prep time:
Preperation time:
45 mins
Occasion:
Any
Cuisine:
Pakistani
Effort:
Easy
Best for:
All
How to serve:
Cold
---
Ingredients:
Milk Powder: 1 cup
Self raising flour: 1/2 cup OR
White flour: 1/2 cup(Add 1/2 tsp of Baking powder in it if using white flour)
Fresh Cream: as per need
Ground small cardamom: 1/2 tsp
Oil: for deep frying
Sugar: 1 1/2 cup
Water: 2 cup
Preparation:
First of all, place sugar & water in a sauce pan. Allow it to boil for 15 minutes until it turns into slight thick syrup.
Sift milk powder, self raising flour & ground cardamom in a bowl. Then mix it well with fresh cream to make slightly hard dough. Make small sized balls of it. Heat oil & deep fry the balls carefully. Fry them slowly on low fire until they turn to golden brown. Take them out of oil then put into the hot sugar syrup straight away. Cook it for about 1-2 minutes then turn the fire off.
Leave it to cool. Garnish with ground pistachios or dessicated coconut if u like. Then serve when chilled.
(Its very easy to make & tastes yummy, I'm sure)