Taro (Arvi) Bhaji
Rating: 5/5 - Votes: 1 - Views: 11424
Arvi is somewhat similar to Potatoes and is cooked the same way. In this recipe it is cooked with aromatic spices such as carom seeds and fried in yogurt, mango powder etc to give a tangy flavor.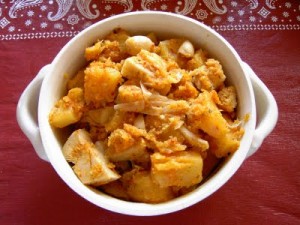 ---
Total servings:
3-4
Calories:
Pre-Prep time:
Preperation time:
30 min
Occasion:
Any
Cuisine:
Pakistani
Effort:
Easy
Best for:
All
How to serve:
Hot
---
Ingredients:
Taro 1/2 kg
Yogurt 1 cup
Carom(ajwain) seeds 1 tsp
Coriander powder 1 tsp
Red chilli powder 1/2 tsp
Turmeric powder 1/2 tsp
Dried mango powder 1/2 tsp
Curry leaves 6
Green chillies 2
Salt to taste
Oil as required
Preparation:
Peel taro, cut into pieces and soak in a salt water.
Heat oil in a wok and fry carom seeds and curry leaves in it.
When tempering is ready, add taro and cook for 1 minute on high flame.
Add yogurt, coriander, turmeric, red chillies, dried mango powder, green chillies and salt and cook over low flame.
When it leaves oil and taro becomes tender, remove from flame.
Serve taro Bhaji hot with roti.