Tandoori Wrap
Rating: 3.5/5 - Votes: 3 - Views: 18830
These wraps are the perfect grab-and-go meal. You can also use seasoned yoghurt and some fresh chopped coriander and mint instead of the chutney.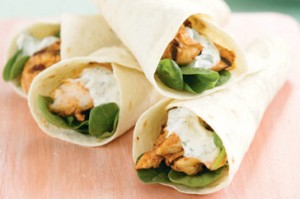 ---
Total servings:
4
Calories:
Pre-Prep time:
Preperation time:
20 minutes
Occasion:
Any
Cuisine:
Pakistani
Effort:
Easy
Best for:
All
How to serve:
Hot
---
Ingredients:
600 g chopped cooked chicken
60 g tandoori paste
4 green onions
200 ml yogurt
2 tblsp chopped coriander
1 tblsp lime juice
1/2 teasp sugar
4 pieces lavash bread(you can easily find itin a chinese foodstore or you can use a chapatti)
2 tblsp mango chutney
Salad greens are optional
Preparation:
Combine chicken, paste, onion and 60ml of the yogurt in heated oiled medium frying pan;cook, about 5 minutes.
Combine remaining yogurt with coriander, juice and sugar in small bowl.
Place one quarter of chicken mixture along short side of one piece of lavash; drizzle with one quarter of yogurt mixture and 2 teasp of the chutney; roll to enclose filling.