Sugar Free Strawberry Icecream
Rating: 5/5 - Votes: 1 - Views: 9533
Juicy Strawberries blended with milk to make a delicious icecream.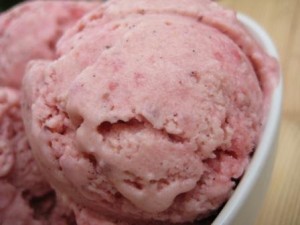 ---
Total servings:
4-5
Calories:
250-300
Pre-Prep time:
20 mins
Preperation time:
15 mins(except freezing)
Occasion:
Any
Cuisine:
American
Effort:
Average
Best for:
Diabetics
How to serve:
Frozen
---
Ingredients:
2 cups (a litre) low fat milk
2 tablespoons cornflour
1 cup fresh strawberries, chopped
3 to 4 sachets sugar substitute
Preparation:
1. Mix the cornflour in a cup of cold milk and keep aside.
2. Bring the remaining milk to a boil in a non-stick pan and add the cornflour mixture.
3. Stir continuously and simmer over a slow flame till it coats the back of a spoon.
4. Cool completely. Add the sugar substitute and the strawberries and pour into an air-tight container.
5. Freeze for 4 to 6 hours.
6. Blend in a blender till it is slushy and pour back into the air-tight container. Freeze till the ice-cream is set.