Steamy Kung Pao Chicken
Rating: 5/5 - Votes: 1 - Views: 14233
The dark, rich sauce clings to the chicken and veggies, with just an undertone of heat and aromatic flavor from the chilies, chicken and other veggies.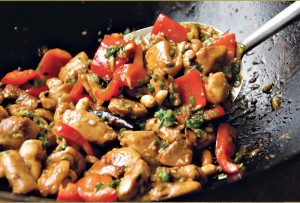 ---
Total servings:
2-3
Calories:
300
Pre-Prep time:
35 mins
Preperation time:
20 mins
Occasion:
Any
Cuisine:
Chinese
Effort:
Average
Best for:
All
How to serve:
Hot
---
Ingredients:
2 boneless, skinless, chicken breast halves, cubed
1 egg white, lightly beaten
2 teaspoons cornstarch
2 tablespoons black bean sauce
2 tablespoons water
1 garlic clove, finely minced
1 tablespoon hoisin sauce
1 tablespoon rice vinegar
1 teaspoon sugar
3 tablespoons vegetable oil
1/2 cup raw unsalted peanuts
1 to 2 dried red chilies, crushed (or 1 teaspoon dried red pepper flakes)
Hot cooked rice (optional)
1 onion diced
1 cup baby corns
a bunch aspharagus(stems removed)
1 cucumber diced
1 red bell pepper diced
Preparation:
Combine chicken, egg white and cornstarch in small bowl.
Mix next 7 ingredients in another small bowl. Set sauce aside.
Heat oil in wok or heavy large skillet over medium-high heat. Add peanuts and chilies and cook until peanuts are golden brown, about 1 minute. Remove with a slotted spoon and set aside.
Then in same oil and wok add all vegetables and stir fry for 4 mins.Take all vegetables out of wok and keep aside.
Increase heat to high. Add chicken mixture and stir-fry until chicken is lightly browned, about 1 to 2 minutes. Reduce heat to medium. Return peanuts to wok/pan.
Add all vegetables too.Add sauce and blend thoroughly. Cook until heated through, about 1 to 1 1/2 minutes. Serve immediately over hot cooked rice, if desired.