Steam Spot Chargha
Rating: 5/5 - Votes: 2 - Views: 16259
Easy roast chicken recipe in which Chicken is marinated with flavorsome spices, steamed first and then deep fried. Serve with your choice of salad and raita.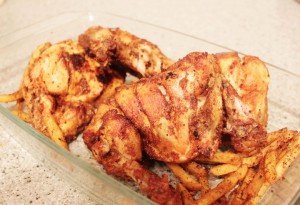 ---
Total servings:
4-6
Calories:
Pre-Prep time:
Preperation time:
1 hour
Occasion:
Any
Cuisine:
Pakistani
Effort:
Easy
Best for:
All
How to serve:
Hot
---
Ingredients:
1 Whole chicken
1 cup curd
2 tablespoons soyasauce
1 tablespoon white zeera(heat in the pan then grind it rougly)
1 teaspoon red chilli powder
1 teaspoon table salt
1/2 teasspoon haldi
1 tablespoon ginger/garlic paste
Few drops yellow food color
Oil for deep frying
Preparation:
Tie the legs of chicken together with the thread.
Then mixed all the above mentioned ingredients in the curd except oil.
Mixed them smoothly and then marinate the whole chicken in it for 25 minutes.
Then in a deep pan pour the chicken with all masala and cook it on medium flame for about 25 minutes until the chicken is cooked.
Then take out the chicken and prepare oil in the other pan for deep frying. Put the whole chicken into the oil and deep fry it for 5 minutes until it gets golden brown.
Take out the chicken and serve it with fresh green salad or with raita.