Spicy Orange Chicken Wings
Rating: 3/5 - Votes: 4 - Views: 15825
A little sweet, a little spicy! The orange flavor is a nice twist on these chicken wings. Tastes great with ketchup.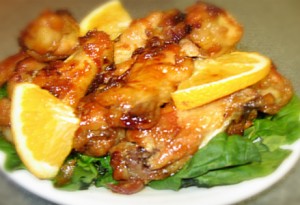 ---
Total servings:
20 servings
Calories:
300
Pre-Prep time:
10 mins
Preperation time:
30 mins
Occasion:
Any
Cuisine:
Chinese
Effort:
Easy
Best for:
All
How to serve:
Hot
---
Ingredients:
4 pounds chicken wings
Salt and freshly ground pepper to taste
1 (6-ounce) can frozen orange juice concentrate
6 tablespoons cold water
1/3 cup honey
1 tablespoon hot sauce or upto taste
1 Tablespoon red pepper flakes
Preparation:
Rinse chicken wings and pat dry well. With a sharp knife separate the drumettes from the wing tips at the joint. Sprinkle with salt and pepper.
Preheat broiler to 450*F (230*C).
Arrange chicken wings in a single layer on a greased baking sheet. Broil for about 4 minutes on each side, until browned and crispy. Remove from broiler and transfer wings to paper towels to drain. Place in a large serving bowl or dish with sides; keep warm.
Meanwhile, combine orange juice concentrate, water, honey and hot sauce and red pepper flakes in a small saucepan. Bring mixture to a rolling boil. Remove from heat and immediately pour mixture over the wings. Toss wings to coat well. Serve hot or at room temperature.