Spicy Karhahi Chicken
Rating: 2.5/5 - Votes: 17 - Views: 55717
With its exotic fragrance of fresh ginger, whole black pepper and fresh green chilies this is one dish all curry lovers must taste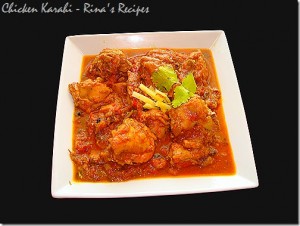 ---
Total servings:
3-4.
Calories:
Pre-Prep time:
Preperation time:
30 min
Occasion:
Any
Cuisine:
Pakistani
Effort:
Average
Best for:
All
How to serve:
Hot
---
Ingredients:
1 kg Chicken
2 tsp Ginger+Garlic Paste
1 tsp Thinly Sliced Ginger
Salt To Taste
Red Chilli Powder To Taste
Cup Ghee
1 tsp Black Pepper
3 Green Chillies
Green Corriander Leaves As Required
Preparation:
Heat oil and add ginger garlic paste and cook a little.
Then add the chicken and cook adding ginger slices, salt, red chilli powder, pepper and green chillies and cook until little brown.
Serve hot with corrinder leaves on top.