Spicy Green Rice
Rating: 3.5/5 - Votes: 6 - Views: 15587
Rice cooked in green masala. This dish is not only pretty it tastes good too! Green Pulao goes very well with any meat dish.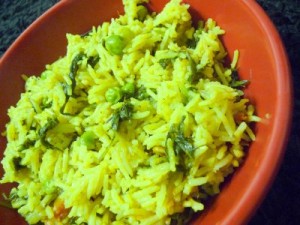 ---
Total servings:
5-6
Calories:
Pre-Prep time:
Preperation time:
30-40 min
Occasion:
Any
Cuisine:
Pakistani
Effort:
Easy
Best for:
All
How to serve:
Hot
---
Ingredients:
4 cups Rice (basmati)
1 cup Spinach (leaves)
1 cup Mint (leaves)
1 cup Coriander leaves
6 nos. Cloves
6 nos. Cinnamon (sticks)
3 nos. Cardamom
2 nos. Onion (chopped)
10 nos. Green Chilies
Salt to taste
Ginger & garlic paste 2 tbsp
Javitri 1
Water 6 cups
Preparation:
Blanch all the green leafy vegetables and grind them into a paste together.
Add oil to the pan, add cloves, cardomom, cinnamon, javitri and saut them.
Later add ginger and garlic paste and sautC for few seconds.
Later add the chopped onions and green chilies and saut them till the onions become transparent.
Then add the green leafy paste to the pan, mix well, allow it to cook for few minutes until the boils appear.
Later add the rice and mix well. Then add water, salt and mix well and cover the pan with a lid.
Allow it to cook, after the rice is cooked, garnish it with coriander.