Spanish Briyani
Rating: 5/5 - Votes: 1 - Views: 12367
A delicious and unique style of presenting rice with colorful veggies and chicken.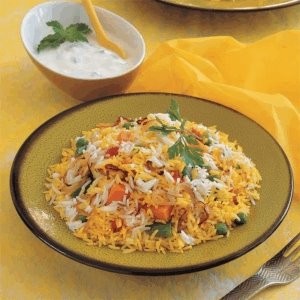 ---
Total servings:
4-6
Calories:
Pre-Prep time:
Preperation time:
1 hour 20 minutes
Occasion:
Any
Cuisine:
Spanish
Effort:
Easy
Best for:
All
How to serve:
Hot
---
Ingredients:
4 cups boiled jasmin rice
2 lbs chicken
3 cups diced tomatoes
2 Cups diced onions
2 chopped green chillies
4 Tbs oil
6 packets of Goya Sazon
1/2 cup diced cilantro
Preparation:
After you have boiled your rice set it aside.
Then fry onions lightly for 2 minutes quickly add diced tomatoes and cook again for 2 minutes then set aside.
Next, Fry the chicken in tbs oil, after chicken is throughly cooked add to premade rice.
Next, toss in the onions and tomatoes, then add the 7 packets of sazon stiring until rice turns orange/red while adding 2 additional teaspons of oil to moisten. Next add the chilli peppers and chopped cilantro.
There you have a spanish style Briyani and my Homemade recipe. Enjoy!