Southwestern Style Black Bean Salad
Rating: 4/5 - Votes: 5 - Views: 18048
This colorful, high fiber, high protein salad makes a great side dish, appetizer served with chips.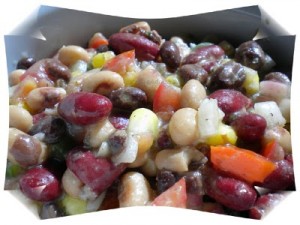 ---
Total servings:
6
Calories:
303 calories
Pre-Prep time:
Preperation time:
20 mintues
Occasion:
Any
Cuisine:
American
Effort:
Easy
Best for:
All
How to serve:
Cold
---
Ingredients:
15 ounce can black beans, rinsed and drained.
8 ounces can red kidney beans, rinsed and drained.
8 ounce can whole kernel corn, drained.
1/2 cup chopped green pepper
1/4 cup red onion
1/4 cup salad oil
1/4 cup vinegar
2 tablespoons lime juice
1 tablespoon sugar
1 teaspoon chili powder
1 teaspoon ground cumin
1/4 teaspoon salt
1 clove garlic, minced,shredded salad leafs.
Tortilla Chips (optional)
Preparation:
In a large mixing bowl combine black beans, kidney beans, corn , green pepper, and onion.For dressing, in a screwtop jar combine oil, vinegar , lime juice, sugar, chili powder, cumin, salt and garlic. Cover and shake well.
Pour dressing over the beans mixture.
Toss lightly to coat. Cover and chill for 4 to 24 hours, stirring occasionally.
To Serve, Line bean salad with salad leafs.
Serve with Tortilla Chips (optional)