Shahi Pilaf
Rating: 3/5 - Votes: 2 - Views: 14067
It is an indian recipe special mughlai recipe. Takes no time to cook and tastes delicious.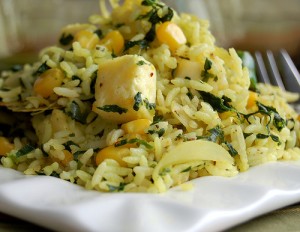 ---
Total servings:
6-8
Calories:
400
Pre-Prep time:
15 mins
Preperation time:
25 mins
Occasion:
Any
Cuisine:
Indian
Effort:
Average
Best for:
All
How to serve:
Warm
---
Ingredients:
2 cups uncooked rice
1 tablespoon cashewnuts
1 tablespoon raisins
2 tablespoons paneer (cut into small cubes)
1 cup boiled green peas
2 finely chopped green chillies
1 teaspoon black-zira
2 sticks cinnamon
2 cloves
3 cardamoms
1 tablespoon fruit pieces (any stewed fruit)
1/2 teaspoon saffron
4 tablespoons ghee
salt to taste
Preparation:
Boil the rice. Each grain of the cooked rice should be separate. Drain and cool.
Heat the ghee and fry the cashewnuts. Remove and keep aside.
Fry the raisins in the same ghee. Remove and keep aside.
Add the blackzira, cinnamon, cloves, cardamoms and green chillies to the ghee and fry again.
Add the rice, paneer, green peas, fruit pieces, paste and salt and mix well.
Warm the saffron a little, rub in a little warm water and add to the rice.
Decorate with the fried cashewnuts and raisins.
Serve hot with curds or curry.