Seekh Kebabs
Rating: 3/5 - Votes: 5 - Views: 24133
Ground lamb with spices is wrapped around skewers and roasted on hot charcoal embers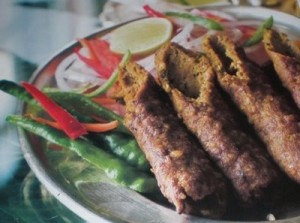 ---
Total servings:
4
Calories:
Pre-Prep time:
Preperation time:
45 min
Occasion:
Any
Cuisine:
Pakistani
Effort:
Average
Best for:
All
How to serve:
Hot
---
Ingredients:
1 kg Minced meat
100-150 grams Mutton fat
1 tablespoon Ginger paste
1 tablespoon Garlic paste
1 teaspoon Red chilli paste
1 tablespoon Mint leaves
1 tablespoon Coriander leaves
1 tablespoon Garam masala
100 grams Chopped onions
1 no. Egg
1 tablespoon gram flour
Salt
Preparation:
Roast the besan till it emits an aroma. Chop the coriander and mint leaves.
Place the mince and all the ingredients (except the butter) into a food processor and blend well. Put this mixture away in the fridge for a couple of hours.
Wet your hands, and mould portions of the mince around an iron skewer. Each seekh kebab should by about fourfive inches long.
Cook over a charcoal fire for best results, but a hot grill will do just as well. Cook, rotating the skewer from time to time, and baste with a little butter.
Remove from the skewer and serve hot with roomali roti, onions and mint chutney.
Tip : The kebab will not stick to the skewer if you rub it with a little oil before puting the meat on it.