Seasoned Chicken Parmesan
Rating: 4/5 - Votes: 6 - Views: 14428
Quick and easy Chicken Parmesan Recipe. It is easy to make, goes with almost anything and is a treat.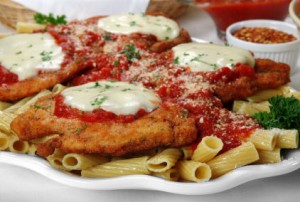 ---
Total servings:
2
Calories:
Pre-Prep time:
10 minutes
Preperation time:
10 minutes
Occasion:
Any
Cuisine:
American
Effort:
Easy
Best for:
All
How to serve:
Hot
---
Ingredients:
3/4 lb. boneless skinless chicken breast halves
waxed paper
1/4 cup low fat buttermilk
1 Tbsp. grated Parmesan cheese
1/4 cup plus 2 Tbsp seasoned breadcrumbs
2 tsp all purpose flour
2 Tbsp. olive oil
1 clove garlic, crushed
Preparation:
Place chicken between two sheets of waxed paper and pound lightly with a mallet or other heavy flat object to flatten to 1/4 inch thickness.
Combine buttermilk and Parmesan in a bowl.
Place breadcrumbs on a piece of waxed paper.
Dust chicken with flour and season with salt and pepper to taste.
Dip both sides of chicken in buttermilk mixture.
Dredge both sides of chicken in breadcrumbs.
Heat oil in a heavy nonstick skillet over medium-high heat.
Saute garlic 1 minute.
Discard garlic and saute chicken 4-5 minutes, or until golden.
Turn and saute another 3-4 minutes, or until browned and chicken is cooked throughout.