Rich Mutton Curry
Rating: 3/5 - Votes: 6 - Views: 38318
A spicy mouthwatering mutton curry rich in flavored spices.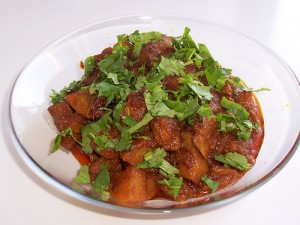 ---
Total servings:
5
Calories:
Pre-Prep time:
Preperation time:
1 hour
Occasion:
Any
Cuisine:
Pakistani
Effort:
Average
Best for:
All
How to serve:
Hot
---
Ingredients:
500 grams Mutton
4 tablespoons Oil
1/2 inch Cinnamon
2 nos. Cardamoms (green)
3 teaspoons Red chilli powder
1 tablespoon Aniseed powder
1 1/4 cups curds
1 cup Water
1/2 tablespoon Sugar
1/4 cup Khoya
10 nos. Almonds
1 tablespoon Garam masala
4 nos. Cloves
1/2 teaspoon Ginger powder (dried)
1 pinch Asafoetida
Preparation:
Cut the mutton into 1 1/2 inch pieces and wash. Drain and set aside.
Mix the khoya with 1/4 cup curds, beat well to form a smooth mixture.
Grind the almonds to a fine paste.
Heat oil in a pan and add the cloves, cinnamon, cardamoms, asafoetida and fry for a minute or two.
Add the mutton pieces and fry uncovered over a medium flame for about 5 mintues, stirring often.
Add 2 tsp. chilli powder, dried ginger powder, aniseed powder, salt and curds. Cook covered on a low flame, stirring twice or thrice till the liquid dries up and the masala starts sticking to the bottom of the pan.
Scrape off masala from the bottom and add 1/4 cup water.
Cook again till the water dries up completely. Add the remaining water and sugar.
Presure cook till the mutton becomes soft (i.e after one whistle, pressure cook on a low flame for about 10 mintues.
Add the khoyacurd mixture, ground almonds, garam masala and the remaining teaspoon of chilli powder.
Cook uncovered on a low flame for about 5 mintues.
Serve hot with tandoori rotis, naans or parathas