Reshmi Kabob
Rating: 4.5/5 - Votes: 4 - Views: 17187
Finger licking tasty chicken kabobs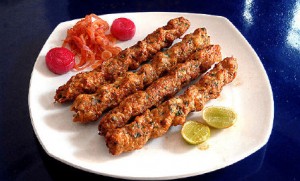 ---
Total servings:
8-10
Calories:
Pre-Prep time:
Preperation time:
Occasion:
Any
Cuisine:
Pakistani
Effort:
Average
Best for:
All
How to serve:
Hot
---
Ingredients:
1 lb. ground chicken (chicken qeema)
1 tsp salt (namak)
1 tsp red chilly powder (lal mirchi)
1 tsp corriander powder (dhaniya powder)
1 tsp garam masala (all spice)
1 tsp ginger paste (adrak)
1 tsp garlic paste (lassan)
2 tsp of green chilli paste (hari mirch ki paste)
if not available just take 2-3 thai green chillies and blend it well
2 tsp sweet coconut powder
1 large egg
2-3 tablespoons fresh chopped cilantro/corrainder (hara dhaniya)
Preparation:
In a large bowl combine all the dry ingredients and mix well until mixed
now add the egg and green chilli paste and mix well.
Once the kabob mixture is ready cover and put in fridge for atleast 2 hours or preferably overnight (will taste better if left overnight).
Once the mixture has been chilled the mixture is ready to be formed into tasty reshmi kabobs!
There are 2 options on how to cook your kabobs for less fat use the following method....
Using wooden skewers (pre soaked) rub the palms of your hands with half a teaspoon of vegatable oil or ghee thats upto your choice on which you prefer and form into long shaped kabobs pressing lightly onto the skewers and cook on the (bbq) grill cooking 8-10mins on both sides.
Next method is flat circle shaped which will be fryed with vegatable oil in frying pan or wok.
Take about half a teaspoon of oil and rub on both your palms take about 2 tablespoon mixture and start forming a flat thin patty (size is optional)
fry on each side on medium high stove/burner setting for about 8 minutes.
Your reshmi kabobs are ready and best served with raita even plain yogurt or podina ki chutney or ketchup.
ENJOY!!!!!!!!!! :)