Philli Cheese Steak Pizza
Rating: 5/5 - Votes: 1 - Views: 7894
Sicilian thick crust pizza with thin roasted beef slices topped with bellpeppers, onions, mushrooms and provolone and parmesan cheeses.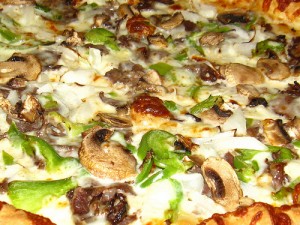 ---
Total servings:
5
Calories:
1 slice 180
Pre-Prep time:
20 mins
Preperation time:
35-40 mins
Occasion:
Any
Cuisine:
Italian
Effort:
Average
Best for:
All
How to serve:
Hot
---
Ingredients:
For Pizza Dough: Sicilian Thick Crust:
-------------------
(makes a 17 1/2" X 11 1/2" Pizza)
4 cups All−Purpose flour
1 tsp salt
4 tbsps oil
2 pkgs. dry yeast
1 1/2 cups of warm water (105F)
For Toppings:
---------------
1 Medium Onion, sliced
1 Medium Green pepper, sliced
8 oz. Mushrooms, sliced
8 oz. Roast beef, shaved
3 tbls. Worchestershire sauce
1/4 teas. Black pepper
1 Batch Sicilian Thick Crust Dough
3 tbls. Olive oil
1 teas. Crushed garlic
4 cups provolone cheese
1/4 cups Parmesan cheese, grated
Preparation:
For Dough:
------------
Mix yeast, 1/2 cup flour, and 1/2 cup water in a bowl covered with
plastic wrap. Let rise for 15 minutes.
Stir to deflate. Mix 2 cups of remaining flour with salt, 1 cup cool
tap water, and oil. Add yeast mixture. Mix in remaining flour.
Knead 15 minutes on a floured surface (10 minutes in a machine) until
smooth. Place dough in bowl dusted with flour and cover with plastic
wrap. Let rise until doubled (1 to 2 hours). Punch dough down and
put in ziploc bag in the refrigerator until ready to use.
For Pizza Toppings and Baking:
--------------------------------------
Saute vegetables in 1 tb. olive oil until limp; add roast beef.
Cook for three more minutes. Add Worchestershire sauce and pepper;
stir and remove from heat. Set aside. Brush prepared dough with
3 tb. olive oil and spread crushed garlic over entire surface of dough.
Top with a light layer of shredded cheese, then meat/vegetable mixture,
distributing evenly. Top with remaining shredded cheese, then Parmesan.
Bake in preheated 500F oven until cheese is melted and bubbly.Depending on
Oven temperature around 35-45 mins
Let sit 5 minutes before cutting and serving.