Paneer Fried Rice
Rating: 4/5 - Votes: 5 - Views: 21516
A lips smacking recipe from Bengal that is light, easy to make and that adds some sparkle to any special lunch or dinner menu.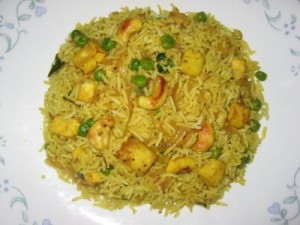 ---
Total servings:
3-4
Calories:
Pre-Prep time:
Preperation time:
15-20 min
Occasion:
Any
Cuisine:
Pakistani
Effort:
Easy
Best for:
All
How to serve:
Hot
---
Ingredients:
Basmati rice 2 cups.
Paneer 2 cups (cut in small cubes).
Green pepper(capsicum) 1 (chopped).
Onion 1 large (chopped).
Peas 1/2 cup.
Aginomotto a pinch.
Spring onion 1 bunch (chopped).
Black pepper 1 tsp.
Ghee (melted butter) 2 tbsp
Salt to taste.
Oil
Preparation:
Soak The Basmati Rice in water for half an hour before cooking.
Wash and drain the rice.
Boil the rice with a tea spoon of oil and salt and keep it aside.
Heat the pan with ghee and add chopped onion, fry until it becomes golden brown, add chopped capsicum, peas saute for 3 min.
Add paneer, aginomotto, black pepper and fry for 1 min, add boiled rice and mix well.
Garnish with the chopped spring onion or cashews etc.