Pakistani Shahi Pulaw
Rating: 4/5 - Votes: 2 - Views: 20562
Shahi pulao is a mix vegetable pulao made with a different vegetables and has a very rich taste as the rice cooked in rose water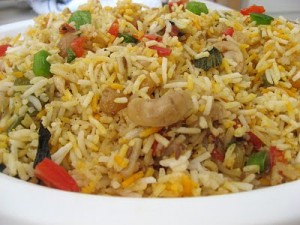 ---
Total servings:
4
Calories:
Pre-Prep time:
Preperation time:
1/2 hour.
Occasion:
Mehndi
Cuisine:
Pakistani
Effort:
Easy
Best for:
All
How to serve:
Hot
---
Ingredients:
Green capsicum2
Yellow capsicum2
Red capsicum2
Desi ghee 2 tablespoon
Chopped fried paneer 1 cup
Charmagaj 1 tablespoon
Sugar as per taste
Basmati rice 1 kg.
Onions 2
Ginger/garlic paste 2 tablespoon
Gulab jalas needed
Red chilli paste1 tablespoon
Salt as per taste
Preparation:
First soak the basmati rice in fresh and scented[khushbudar]gulab jal [rose water].
Then take the pure desi ghee in a frying pan and add sugar, salt, ginger/garlic paste, red chilli paste with the paneer.
Add onion and charmagaj also.
Cook until brown and you get the beautiful smell of paneer.
Now add the gulab scented rice and cook well.
Last of all, add the three types of capsicum.
Here though green one is the best but the threesome is used to make it more attractive. Serve it hot.