Paan Icecream
Rating: 5/5 - Votes: 1 - Views: 16718
Rich icecream tastes like paan.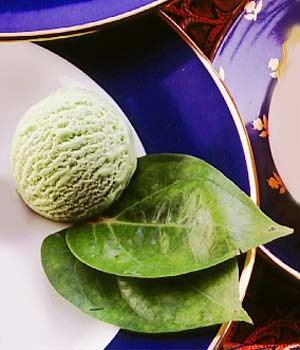 ---
Total servings:
10
Calories:
450
Pre-Prep time:
10 mins
Preperation time:
15 mins
Occasion:
Any
Cuisine:
Pakistani
Effort:
Average
Best for:
All
How to serve:
Frozen
---
Ingredients:
1 litre full fat milk
1½ cups sugar
¼ cup cornflour
1½ cups (300 grams) fresh cream
For Paan Flavor..
4 nos. paan leaves (betel leaves)
juice of 1 lemon
6 nos. dried dates,chuhahra, soaked overnight and finely chopped
1 tablespoon saunf (fennel seeds), powdered
¼ teaspoon cardamom (elaichi), powder
¼ cup gulkand (sweetened rose petals)
a pinch menthol
Preparation:
Wash the paan leaves and grind them into a fine paste along with the lemon juice in a blender. Sieve through a strainer and keep the juice aside.
Deseed and finely chop the dried date.
Mix together the paan juice, dried date, saunf, cardamom powder and gulkand in a bowl. Keep aside.
To proceed..
Dissolve the cornflour in ¼ cup of cold milk. Keep aside.
Place the rest of the milk in a heavy bottomed pan and bring it to a boil.
Add the sugar and simmer for 5 minutes.
Add the dissolved cornflour and simmer for another 5 minutes while stirring continuously, till it is of a coating consistency.
Remove from the fire and allow it to cool completely.
Add the paan flavouring mixture and cream to the milk.
Mix well and pour into a shallow dish.
Freeze till slushy. Remove and beat with a whisk until smooth and creamy (or use a blender).
Add the menthol and mix well.
Freeze again until firm. Scoop and serve.