Oven Fried Chicken
Rating: 5/5 - Votes: 1 - Views: 11786
Chicken Pieces baked with a coat of paprika, cheese, and biscuit crumbs.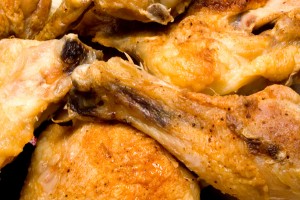 ---
Total servings:
4
Calories:
Pre-Prep time:
Preperation time:
40 min
Occasion:
Any
Cuisine:
Pakistani
Effort:
Easy
Best for:
All
How to serve:
Hot
---
Ingredients:
750 gms. crisp savoury biscuits
2 tbsp. parmesan cheese
1 tsp. milk paprika
1 egg white
Pinch of salt
10 chicken pieces.
Preparation:
In a processor or liquidizer blend the biscuits to fine crumbs, add the parmesan cheese and paprika and blend a few seconds longer.
Tip into a strong plastic bag.
Lightly beat the egg white and salt on a shallow plate.
One chicken piece at a time, coat with the egg white, add to the crumbs and shake to coat generously.
Arrange on a roasting rack bone side downwards.
Cook uncovered 5-8 mins.
Leave to stand 5 mins. uncovered.