Orange Chicken
Rating: 5/5 - Votes: 3 - Views: 18221
Chicken chunks marinated in lemon and orange juice with brown sugar, vinegar, soy sauce, garlic, and ginger. Tastes great if served with rice.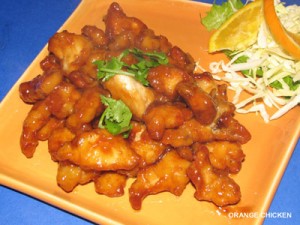 ---
Total servings:
8
Calories:
400
Pre-Prep time:
15 mins
Preperation time:
30 mins
Occasion:
Any
Cuisine:
Chinese
Effort:
Easy
Best for:
All
How to serve:
Hot
---
Ingredients:
1 lbs chicken cutted in small bite size pieces(skinless and boneless) preferablly breast piece.
Juices of 2 oranges
3 tbsp soy sauce
Garlic/Ginger crushed 2 tsp
Orange rind 1 tsp
Corn flour 5 tbsp
1 egg
Black pepper crushed 2 tbsp
Oil 2 cups
Red chilli flakes 1 tsp
2 tsp sugar
Salt 1 tsp
Ajinotomoto(chinese salt)1 tsp
1/2 cup water
Vinegar 1tsp
Preparation:
For Chicken:
------------------
Take chicken and place it in bowl.add egg and 2 1/2 tbsp (half of cornflour) in it.Then add black pepper 1 tsbp in it..mix it well and let it set for 10 mins.
deep fry the chicken until get nice crust and get dark brown.Then arrange them on serving dish.
For orange gravy:
-----------------------
In another pot pour orange juice along with half cup of water.
Let it boil after it once boiled add black pepper, red pepper flakes, ajinomoto, salt and orange rind to it and let it get one more boil
Then dissolve resume cornflour in cold water and add to orange gravy and in end when it gets thick add sugar and vinegar to it..and turn off the heat.
Now on fried chicken pieces pour this gravy evenly and serve with fried rice or plain boil rice with hot sauce..