Nargisy Koftay
Rating: 3.5/5 - Votes: 7 - Views: 24728
Eggs covered in the spicy minced meat and gravy is one of the favourite food of Pakistani Cuisine.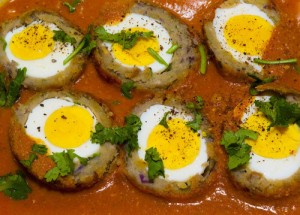 ---
Total servings:
3-4
Calories:
Pre-Prep time:
Preperation time:
45 min
Occasion:
Ramadan
Cuisine:
Pakistani
Effort:
Average
Best for:
All
How to serve:
Hot
---
Ingredients:
1 kg Ground Meat
2 Eggs
3 Onions
1 tbsp Ginger and Garlic Paste
Salt To Taste
Red Chilli To taste
1 tsp Garam Masala Powder
1 tsp Corriander Powder
1 tsp Cumin Seeds
3/4 Cup Chana Dal.
Cup Butter Oil ("Ghee")
2 Medium Sized Tomatoes
Green Corriander And Green Chillies
Preparation:
Firstly put chana dal with the meat and add in the ginger garlic paste, salt and red chilli
powder till tender and water dries up.
Then grind the mixture very finely. Hard boil 5 eggs.
Now add garam masala in the ground meat.
Now take one egg and cover it with the mixture of meat so that no egg can be seen and it
forms a ball.
Do the same with all others.
Now heat oil and fry chopped onions.
Add in the tomatoes and mix well.
Then add salt, ginger+garlic paste and red chilli powder, cumin seeds and corriander powder
all 1 tsp and mix well.
Cook for 5 minutes. Heat the ghee.
Beat another egg and dip the balls in it and fry till brown.
Now cut eggs straight and place on the prepared gravy.
Garnish with corriander leaves.