Naan
Rating: 2/5 - Votes: 9 - Views: 105467
Crispy homemade naan that goes with all kind of dishes usually serve in parties. Serve this delicious bread straight from the oven, with popular dishes like Tandoori Chicken or kababs of different kinds.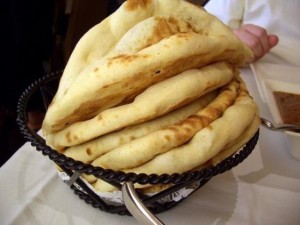 ---
Total servings:
8-10
Calories:
Pre-Prep time:
15 min
Preperation time:
10 min
Occasion:
Any
Cuisine:
Pakistani
Effort:
Easy
Best for:
All
How to serve:
Hot
---
Ingredients:
4 cups all purpose flour
1 tsp baking powder
1 egg - beaten
6 Tblsp plain yogurt
3 Tblsp butter or ghee - melted
1 Cup milk
1 Tblsp poppy seeds
Salt to taste
Preparation:
Sift flour, baking powder or baking soda and salt together in a bowl.
Stir in egg, yogurt and 2 tablespoons of the butter.
Gradually stir in enough milk to make a soft dough.
Cover with a damp cloth and place in a warm place for 2 hours.
Preheat oven to 400 degrees F (205 C) Knead dough on a floured surface for 2 or 3 minutes until smooth.
Divide into 8 pieces Roll each piece into a ball then into ovals about 6inches long.
If you must use a baking sheet, grease it and brush the underside of the bread with water.
Brush the other side with butter and sprinkle poppy seeds.
Bake 6 to 10 minutes until puffy and golden brown.