Mutton Biryani
Rating: 4.5/5 - Votes: 6 - Views: 46896
Easy and mouthwatering mutton biryani recipe.. great for parties and all other occassions.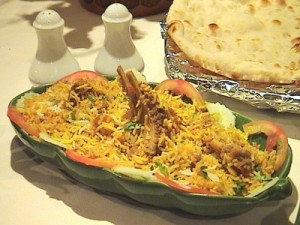 ---
Total servings:
5
Calories:
Pre-Prep time:
Preperation time:
40 min
Occasion:
Any
Cuisine:
Pakistani
Effort:
Average
Best for:
All
How to serve:
Hot
---
Ingredients:
Rice 500 gms
Yogurt 500 gms
Onions 3 large
Tomato 2 small
Oil 5 tsp
Salt, redpepper according taste
Turmeric 1/4 tsp
Ground corriander 1 tsp
Garam masala 2 tsp
Mint leaves 4 to 5
Zeera 1/2 tsp
Green chillies 2
Food color(liquid)2 tsp
Lemon liquid 3tsp
Garlic 4 tsp minced
Ginger 3 tsp minced
Mutton 500 grm
Preparation:
Take yogurt and mix salt, red pepper, and garam masala garlic, ginger, turmeric, coriander in it.
Then add mutton in it and marinate it for 5 to 6 hours.
Afer that heat oil in a pot and add onoins in it when they are brown add tomatoes and marinated mutton in it.
And cook on a slow heat until the mutton is tender and masala leaves oil and the water is dried.
You need to make it little bit spicier than your regular taste.
When you are done with this soak rice in water and boil water in a large pan.
You need to put salt, zeera, sabit garam masala in it.
When water is boiled put rice in them don't let water dry.
When rice is semi cooked drain water and take out the rice in that pan make one layer of half th rice and put mutton masala and then make another layer of rice on top of that layer sprinkle mint leaves, brown onion and green chillies and food color.
Cover it tightly and cook on a low heat for 30 to 35 minutes.
Serve with raita and salad and enjoy your day.