Mutter Paneer Masala
Rating: 5/5 - Votes: 4 - Views: 20739
Mutter Paneer is a Punjabi dish, extremely tasty. Mutter Paneer is a delicious curry of peas and home-made cheese cubes (paneer).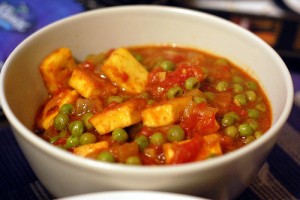 ---
Total servings:
5
Calories:
Pre-Prep time:
Preperation time:
30 min
Occasion:
Any
Cuisine:
Pakistani
Effort:
Easy
Best for:
All
How to serve:
Hot
---
Ingredients:
250 gms fresh green peas
300 gms paneer
3 nos clove
1 tsp cumin
5 nos cardamom
1 stick cinnamon
100 gms chopped onion
100 gms tomato
50 gms ginger garlic paste
1 tsp red chillie powder
coriander powder
tsp turmeric powder
75 gms curd
Salt to taste
A pinch garam masala powder
Oil for frying
25 gms coriander leaves
Preparation:
Make a Puree out of tomato in a blender.
Take oil in a frying pan and add cumin, cloves, cinnamon and cardamom.
When they crackle add chopped onions and fry till golden brown.
Add ginger garlic paste, puree and stir.
Cook green peas with salt for a while and add turmeric powder, coriander powder and chillie powder.
Beat the curd to a smooth texture and stir for 2 minutes.
Reduce the burner to low temperature, stirring occassionally till gravy is thick.
Add garam masala powder and close the lid.
Cut the fresh paneer into cubes and fry in oil till golden.
Dip in cold water, squeeze the paneer and add to gravy. Take off from the fire.
Ready to serve hot.