Murgh Madrasi
Rating: 5/5 - Votes: 4 - Views: 17002
Spicy Chicken curry made with variety of spices and tomato and onion puree. Tastes great with naan or roti.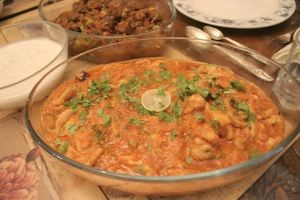 ---
Total servings:
5
Calories:
Pre-Prep time:
Preperation time:
60 min
Occasion:
Any
Cuisine:
Indian
Effort:
Easy
Best for:
All
How to serve:
Hot
---
Ingredients:
Boneless Chicken 1 lb (cubed)
Corn flour (corn starch) 1 tbsp
1 egg white
Tomatoes 2 lb
Onion half (pureed in blender)
Garlic paste 1 tsp
Ginger paste 1 tsp
Fresh green chillies 6-8
Whole black pepper corns 6-8
Whole red pepper (dry) 6-8
Cream 4 oz.
Salt
Ground Black Pepper
Ground Red Pepper
Crushed red pepper
Cumin (1/4 tsp)
Corriander powder (1/4 tsp)
Cilantro leaves
Cooking oil
Preparation:
Marinate chicken: Thoroughly mix the egg white and corn flour, while adding 1/2 tsp of salt. Coat the chicken cubes in the mixture. Cover and place the chicken in the refrigerator for at least 30 minutes.
Prepare paste: Heat 2 tbsp oil in a wok. Slightly sautee the onion puree in oil. Add the black pepper corn, garlic, and ginger. Add all the dry spices. Fry the masala for a few minutes and add pureed tomatoes. Cover and let simmer on low heat.
Cook chicken: Heat enough oil in a wok. Once oil is fully heated, add the chicken and fry until the chicken turns white (should take less than one minute if oil is properly heated).
Combine chicken and paste: Add the fried chicken to the paste. Also add the whole red and green chillies. Let simmer for 15 minutes. Add cream and sprinkle with cilantro leaves just before serving