Murgh Irani
Rating: 4.5/5 - Votes: 4 - Views: 15181
Chicken gravy made of yogurt, ginger mixture accompanied with cardamoms, screwpines and lemon juice to give aromatic yet tangy flavors.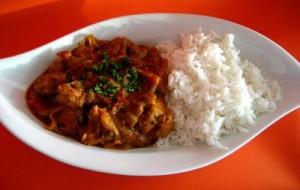 ---
Total servings:
5
Calories:
Pre-Prep time:
Preperation time:
30 min
Occasion:
Any
Cuisine:
Pakistani
Effort:
Easy
Best for:
All
How to serve:
Hot
---
Ingredients:
Chicken pieces 1/2 kg
Yogurt with cream 1/2 cup
Onion finely cut 1/2 cup
Garlic finely cut 3-4 cloves
Ginger chopped 1/2 tsp
Salt to taste
Red chilli powder 1 tsp
Black peppercorns 5
Lemon 1
Oil 1/2 cup
Yellow food color 1/2 tsp
Green cardamom powder 1/4 tsp
Screwpine(kaivra) 2 tbsp
Almonds sliced 8
Preparation:
Heat oil in a pot. Fry onions until brown, Take them out on a paper towel and set aside.
Add chicken, ginger and whipped yogurt in the same oil.
Add garlic, almonds, salt, red chillies, black pepper, yellow food color and fried onions and cook on a low heat.
When gravy thickens add crushed cardamoms, screwpines and the juice of lemon.
Serve hot with white rice or naan.