Murgh Cholay
Rating: 5/5 - Votes: 3 - Views: 29861
Delicious chicken and chickpeas curry made with flavorsome spices.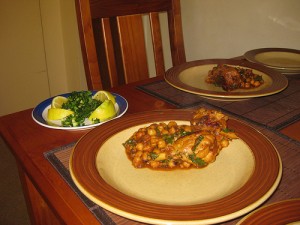 ---
Total servings:
3-4
Calories:
240
Pre-Prep time:
1.5hr
Preperation time:
15 mins
Occasion:
Any, Other
Cuisine:
Asian
Effort:
Easy
Best for:
All
How to serve:
With Garnashing
---
Ingredients:
Chicken boneless and skinless-- 1lbs cutted in bite size cubes
Onion --one sliced thinely
Chick peas(safaid cholay)-- 1 cup cooked
Crushed red pepper flakes-- 1 tsp(upto taste)
Salt (upto taste)
Butter--1 tbsp
Tomatoes--2 thinely sliced
Yoghurt--3tbsp whipped
Green chillies--3-4 sliced diagonally
Tumeric powder--1 tsp
Black pepper powder---a pinch
Lemon juice---1tsp
Oil--1/2 cup
Giner/garlic paste--1 tsp
FOR GARNISHING:
Cilantro--finely chopped
Green chillies finely chopped
Ginger--julleans
Preparation:
Heat oil in pot then throw onions into it.let it get light brown then add chicken to it.Add giner/garlic paste to it and stip it very well let it cook covered for abt 2 minutes.
After 2 minutes uncover the pot and add yoghurt and let it cook covered for 1 minute then add all seasoning to it.red pepper,salt tumeric pwdr,black pepper pwder to it and mix all of them together.
Then add cooked chick peas,tomatoes,greenchillies to it and mix em well and cover it and let it cook for 10 mins
After ten minutes all of water from tomatoes will b evaporated and dish is ready to serve.add lemon juice in end.
Now garnish it with cilantro,ginger,green chillies and butter.
Serves hot with hot naan..rice is good combination with it too..