Murg Malai Kababs
Rating: 5/5 - Votes: 1 - Views: 16280
A kebab of tender, marinated chicken breast, zapped judiciously with spice.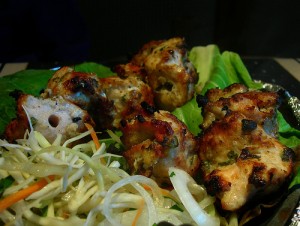 ---
Total servings:
4
Calories:
Pre-Prep time:
15-16 hours
Preperation time:
1/2 an hour
Occasion:
Any
Cuisine:
Pakistani
Effort:
Easy
Best for:
All
How to serve:
Hot
---
Ingredients:
500 gms. chicken (cut into pieces)
1 cup cornflour
1 tsp. garlic juice
2 tbsp. curd
2 cups ghee
1 cellophone bag
1 tsp. ginger juice
1 tsp. black pepper
Salt to taste.
Preparation:
Soak the chicken pieces in salt, vinegar, ginger juice and garlic juice for 12 to 16 hours.
Now put cornflour in the bag with little salt and black pepper.
Add pieces of chicken removed from garlic juice, ginger and vinegar.
Shake the bag well with chicken, cornflour, salt and pepper in it.
Heat the ghee to a high temperature in a deep pan.
Then gradually lower few pieces of chicken and fry them golden brown on a very strong fire.
For frying the second lot of chicken pieces the fat should be heated again to a high temperature.
Serve it hot with green salad.