Mixfruit Cake Cream
Rating: 5/5 - Votes: 2 - Views: 11201
A delectable cake that pleases everone alike.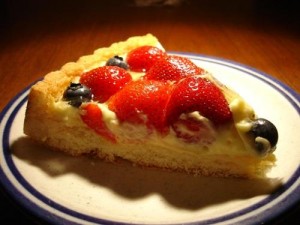 ---
Total servings:
5-6
Calories:
Pre-Prep time:
Preperation time:
10 min
Occasion:
Any
Cuisine:
Pakistani
Effort:
Easy
Best for:
All
How to serve:
Cold
---
Ingredients:
For cream mixture:
Nestle plain cream 3
Milk 1 1/2 cup
3 tbsp roohafza
For filling
1 can of mixed fruit in syrup
Small cubes of fresh cake
2 tbsp of almond grated
Preparation:
In a bowl mix nestle creams and milk ,mix well with mixer.
Then add roohafza in it and then again mix well.
Then take another serving bowl, put cake as layer and then add the cream mixture and then add the canned fruits and finally add the grated alomnds.
Refrigerate for 1 hr and serve chill.