Mediterranean Baked Chicken
Rating: 4/5 - Votes: 7 - Views: 18328
This Mediterranean Baked Chicken Recipe is delicious, healthy, beautiful and it can be made ahead and frozen. A favorite meal of all time.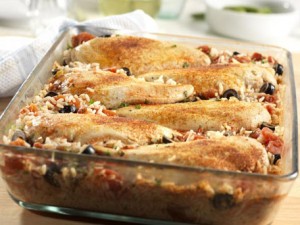 ---
Total servings:
4
Calories:
Pre-Prep time:
1 hour
Preperation time:
10 minutes
Occasion:
Any
Cuisine:
Mediterranean
Effort:
Average
Best for:
All
How to serve:
Hot
---
Ingredients:
2 Tbsp. olive oil
2 Tbsp. lemon juice
1 large chicken, cut into serving pieces
1 tsp. salt (optional)
1 tsp. dried oregano leaves, crumbled
1/2 tsp. white pepper
1 lb. tomato sauce
2 cups chicken stock, hot
1 cup hot water
1/2 lb. kolson speghettis
2 Tbsp. Parmesan cheese
Preparation:
Preheat oven to temperature 400 F.
Combine oil and lemon juice in a bowl and rub over chicken pieces.
Arrange chicken in the bottom of a 9x13 inch flameproof casserole or baking pan.
Season with salt, oregano and white pepper.
Bake 30 minutes, turning chicken pieces after 15 minutes.
Remove casserole from oven and transfer chicken to a platter.
Set aside. Stir tomato sauce, stock and water into casserole dish and cook over medium high heat until mixture comes to a boil.
Stir in pasta and bring to a boil.
Add chicken pieces in a single layer.
Return to oven and bake another 30 minutes, until chicken is tender.
Serve sprinkled with cheese.