Mazedaar Gajar Ka Halwa
Rating: 5/5 - Votes: 4 - Views: 22369
A traditional and very tasty dessert made with grated carrots, sugar and milk. Serve garnished with lots of nut flakes.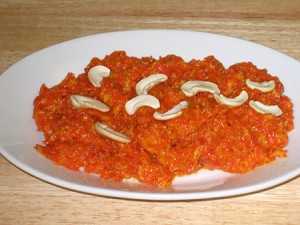 ---
Total servings:
4
Calories:
Pre-Prep time:
Preperation time:
1 hour
Occasion:
Any
Cuisine:
Pakistani
Effort:
Average
Best for:
All
How to serve:
Warm
---
Ingredients:
1 lb. Carrots
1 pt Half and Half
1 1/2 cup Sugar
4 Cardamom
Raisins handful
Cashew nuts handful
Preparation:
Add a little butter to a frying pan and heat to coat the pan.
Roast cashew nuts until golden brown and add the raisins to the pan for a few seconds.
Remove the cashews and raisins and keep aside. Grate the carrots and add to the pan.
Add half and half, and heat for about an hour, starting with high heat, stirring, and lowering the heat after the mixture starts boiling.
Heat until almost dry.
Add sugar, mix, and continue to cook until damp/dry.
Remove from stove and add cashews and raisins and cardamoms.