Mattar Pulao
Rating: 3/5 - Votes: 2 - Views: 15083
The spicy peas or matar pulao is as much a pleasure for our eyes as our taste buds. A nice twist to a typical rice or biryani recipe.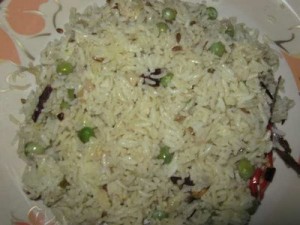 ---
Total servings:
3
Calories:
Pre-Prep time:
Preperation time:
40 min
Occasion:
Any
Cuisine:
Pakistani
Effort:
Easy
Best for:
All
How to serve:
Hot
---
Ingredients:
Rice 1 pao soaked for 1/2 hour
Black Zeera 1/2 tsp
White Zeera 1 tsp whole
Curd 1/2 cup
Whole Green Chillies 4
Whole Spice mixed
Chilli powder 1 tsp
Ginger / Garlic 1 tsp
Peas boiled 1 cup full
Onion brown 1/4 cup
Oil 1/4 cup
Preparation:
Heat oil, fry sliced onion until it gets brown, add whole spices, both the zeera, ginger / garlic and fry the mixture.
Then add curd and fry well, add peas, rice, whole green chillies and enough water for rice. Cover and let it cook then leave on dam for 10 min.
Serve with Raita.