Mattar Palao
Rating: 4/5 - Votes: 3 - Views: 29219
This is very easy recipe, with basmati rice and green peas. It is very mild and fragrant, and great as a side dish.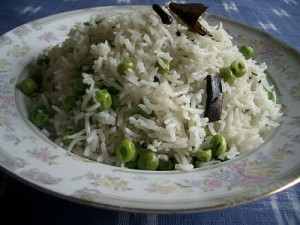 ---
Total servings:
4
Calories:
Pre-Prep time:
Preperation time:
40 min
Occasion:
Any
Cuisine:
Pakistani
Effort:
Easy
Best for:
All
How to serve:
Hot
---
Ingredients:
1 lb. Green Peas
1 lb. Rice Pakistani Basmati
8 oz Onion (Red)
8 oz Tomato
1 tsp Cumin Seed
1 tsp Cloves
3 Cinnamon Sticks
1/4 tsp Red Chili Powder
1 tsp Salt
8 oz Butter (or vegetable oil)
1 knorr chicken cube
3 cups Water
Preparation:
Gather ingredients
Coarsely cut onions lengthwise.
Melt butter solids in a stockpot and put onions in and mix.
When onions turn dark brown, add 3 cups water.
Bring water to boil. Simmer for 5 minutes until water turns brown.
Strain mixture through cheesecloth and remove all onions.
Put water back in stockpot and bring to boil.
Add peas, tomatoes, cumin seed, cloves, red chilies, salt & cinnamon sticks and simmer for 3 minutes. Make chicken stock from base/cube.
Add Chicken stock and bring mixture to boil
Add rice. Water level should be 1 inch above rice. Add water if needed.
Turn the heat to full.
When the water is absorbed by rice, cover the pot and turn heat to low.
Cook until el dente. (rice grains should be long and separable)
******** Makes 48 ounces of rice ********