Marinated Chicken Kababs
Rating: 5/5 - Votes: 2 - Views: 13818
Chunks of chicken are marinated in a spiced yogurt marinade and then skewered and broiled on a grill. Serve with piaz ka chatni, lemon wedges and naan bread.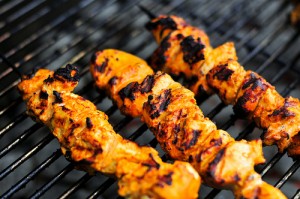 ---
Total servings:
4
Calories:
Pre-Prep time:
Preperation time:
40 min
Occasion:
Any
Cuisine:
Pakistani
Effort:
Easy
Best for:
All
How to serve:
Hot
---
Ingredients:
500 gms. skinned, boneless chicken breasts
125 ml. oil
4 tbsp. distilled malt or wine vinegar
4 cloves garlic, pureed
2.5 cm (1 inch) piece fresh root ginger, pureed
1 tsp. garam masala
1 tsp. ground coriander
1 tsp. ground cumin
1 tsp. ground black pepper
3 tbsp. fresh coriander leaves, finely chopped
salt to taste
500 ml. natural yoghurt
1 small onion, sliced and separated into ringsa little lemon juice.
Preparation:
Cut the chicken into 3.5 cm (1 ) cubes. Mix together the oil, vinegar, garlic, ginger, garam masala, coriander, cumin, black pepper, 2 tbsps. of fresh coriander, salt to taste and the yoghurt.
Put this marinade into a dish and stir in the chicken pieces.
Cover and leave for at least 4 hours, or preferably overnight, in a refrigerator.
Thread the marinated chicken cubes onto metal or bamboo skewers, leaving a little space in between each piece of chicken.
Place over a hot grill and cook until golden brown.
Baste the chicken occasionally with the remaining marinade.
To serve, mix the onion rings and sprinkle some lemon juice on top just before serving and top with strawberry and mango salad.
Serve hot with Naan bread.